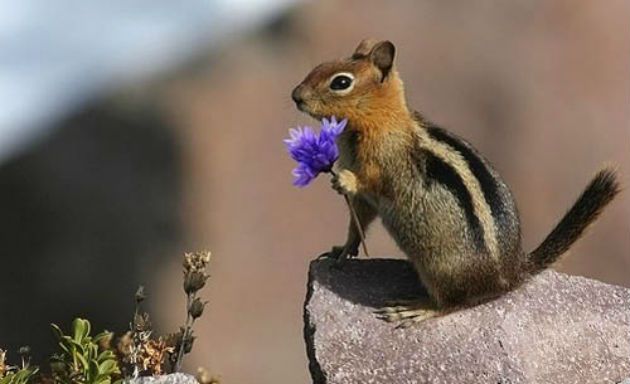 ...Now I'm not sure if you have noticed.. but.. I love squirrels. They are adorably cute, their little puffy tails make me smile and there's nothing sweeter than seeing a squirrel cram its little cheeks with acorns (I'm hoping someone will find my cheeks stuffed with cupcakes equally as cute..likely you think??)
My love for these little critters began almost 3 years ago when my soon-to-be boyfriend and I would send cute pictures of animals to each other (nawww!), it was photos like the above that started it all. Squirrels will always remind me of Mr M, and over the years I've received some lovely squirrel-related gifts from him (and soon after other friends and family caught onto my obsession with these little fellas).
Each fortnight I'm going to showcase some of my cute little squirrel collectables and other secret squirrel business (cute images I've found, youtube videos etc)
To get the ball rolling!...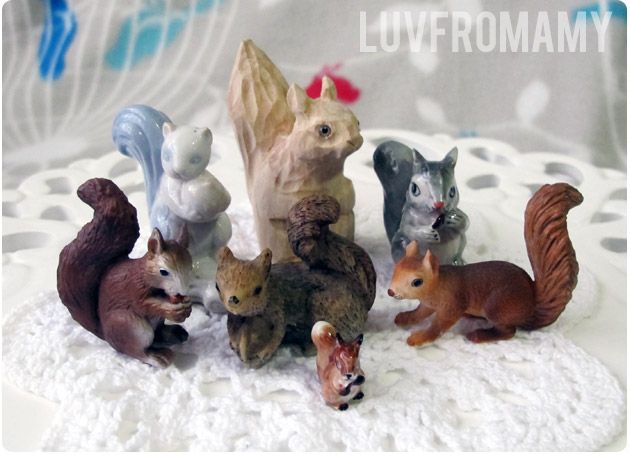 My
squirrel ornaments
can be found on my bookshelves and bedside table. I love how different each of them are! The grey ceramic ornament was my first "woodland animal" purchase and I have since bought an owl and tiny deer from the Queen Victoria Market.
Going clock-wise from left
1.
Plastic squirrel - Bought from a toy store, it's a lovely chestnut colour and has pretty little eyes.
2.
White & blue ceramic squirrel - This was a gift from my best friend, Sami for my 24th birthday. So gorgeous and dainty.
3.
Wooden carved squirrel decoration - I bought this handmade gem from the Make It craft market in Fed Square right before Christmas 2011. It was so unique and so "me" I just had to buy it!
4.
Hand-painted grey ceramic squirrel - Along with the little squirrel down the front, these where my first purchases from the Queen Vic market in Melbourne. He's very traditional looking and reminds me of story book squirrels.
5.
Plastic s

chleich squirrel - Bought from a toy store. Would be gorgeous to use him as a cupcake topper for a woodland themed party.
6.
Plastic squirrel - This was an unexpected gift from a friend, Bella who knew I loved squirrels, so nice of her!
7.
Teeny tiny ceramic squirrel - I thought this was so cute I actually bought 2 of them haha! So small and precious.



You may be thinking "how much squirrely stuff can one girl have??" haha weeeelll let me tell youuu, I have quite a lot and am very looking forward to showing you!

I'm always on the look out for cute and quirky squirrel items so if you see anything that would take my fancy, drop me a line as I'd love to hear from you!
project.bubbles@gmail.com

What do you collect?