Yesterday my best friend, Sami and I trotted off to the Craft & Quilt Fair at the Melbourne Exhibition Centre. We had a great afternoon looking through all the lovely products on offer and gaining lots of inspiration.
I bought some lovely products that I will share with you today ♥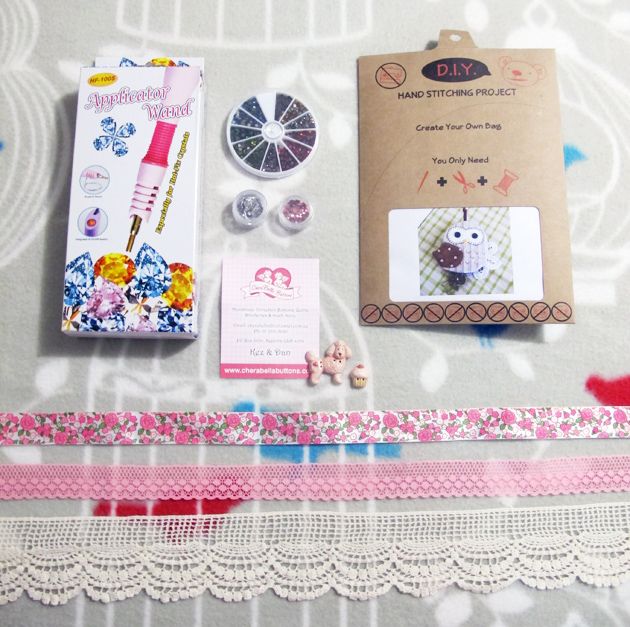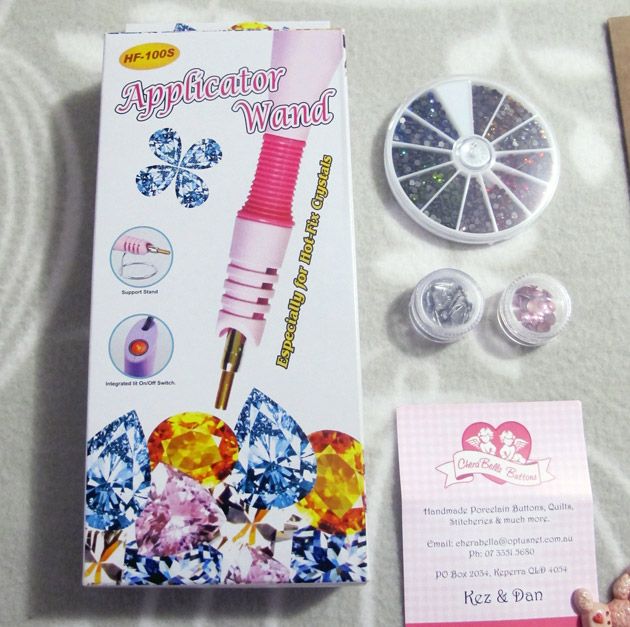 ♥ Zenozam be-dazzle applicator (Stall C14)
This easy to use hot-fix crystal applicator is my crafting dream come true, I can't wait to "bling up" (as the lovely stall owner said! haha) every single item I own. This applicator can be used on any "hot-fix" stud/crystal that can be bought from the Zenozam website or ebay. A hot-fix crystal has glue applied to the back; when the applicator is used the glue melts and by gently pressing the crystal on the fabric it is neatly adhered.
Using the applicator takes all the mess and frustration out of trying to place teeny tiny gems on slippery and curved surfaces.
The store owners' demonstration and items on display really showed off the product's capabilities. You can apply hot-fix crystals to "almost everything" including cotton t-shirts, wool, leather, denim, wood, most plastics and even
stretch fabrics such as lace. When purchasing the applicator a cleaning tool, tweezers and a 1,000pk of coloured rhinestones were included which was a lovely bonus! I also bought some heart shaped studs and pink pearl studs. So excited to use this!! :-)
If you'd like to buy your own Zenozam be-dazzle click

here

or feel free to browse the

Zenozam website, they have a big variety of hot-fix embellishments plus lots of other crafty goods!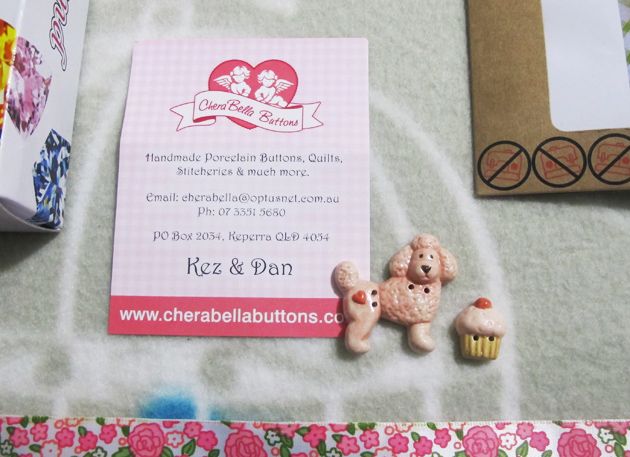 ♥ CheraBella buttons (Stall A19)
I could have spent hours looking through CherraBella's collection of hand-made, hand-painted buttons but unfortunately a girl has to continue on and take a peek at the other stalls...I did however leave with these two cute additions! I think they'll look lovely with a little project I'm working on at the moment.
Stall owner, Kez explained the only machinery used to make these buttons is the ceramic kiln which I found really interesting!
I love the detail and hand-made quality of these buttons; you can really tell a lot of care and time has been put into each one. The CheraBella button range is really impressive featuring cutesy animal, food, sewing, flower and holiday themed buttons (plus more!) as I mentioned, I could have looked for hours haha!
CheraBella's button range can be found online here, I think my next purchase might be this Shingle birdhouse - cute hey??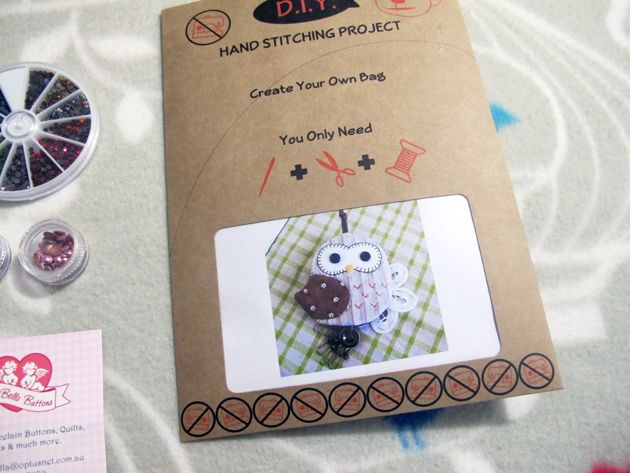 ♥
Dali Zakka hand stitching project: Owl key purse (Stall D10)
Dali Zakka's quirky, hand stitched projects were too cute to pass. With a variety of handbags, wallets and accessories on offer I thought this owl key purse would be the perfect little project for me as I'm constantly misplacing my keys.With a finished size of 10.5cm x 10.5cm it will fit neatly in my handbag and look super cute while concealing my keys. Dali Zakka's projects boast all you need is a needle, thread and scissors - no sewing machine required. I have a bit of experience with hand sewing soft toys so I am confident with my skills, but not as confident with my pattern reading haha! :P I'll most definitely share my finished key purse for you all to see :-P
Check out Dali Zakka's blog for more info on their patchwork goodies, and if you're interested in purchasing your own owl key purse the online directions can be found here
♥ Lace and ribbons from World of Lace (stall B01) Miss Ross, Sister Violet (stall B07)
I purchased these pretty trimmings with a DIY project in mind for my kitchen.. I don't want to spoil the surprise but I think it will turn out just lovely, don't you? The World of Lace had a great variety and lace and ribbons on offer (I purchased the floral and pink lace) at an affordable price with 2 meter budles for as little as $2!! Miss Rose, Sister Violet's stall presentation was just amazinggg - picture a gorgeous little cottage with lace covered lamps, accessories, curtains for as far as the eye can see and that's pretty much what the Miss Rose, Sister Violet stall looked like. With more up-marketing pricing you have to be quite definite with what you would like to purchase but the quality of the product is very deserving of the higher price tag.
Miss Rose, Sister Violet unfortunately do not sell to the public aside from markets but their facebook page is very nice and quite engaging. You can look through World of Lace's gallery and buy their products here (not the prettiest site but their products make up for that haha!)
Have you been to any markets recently? And w
hat are your favourite items to purchase?

{In the next couple of days I will be posting a recap of the Craft & Quilt Fair so keep an eye out for that one!}