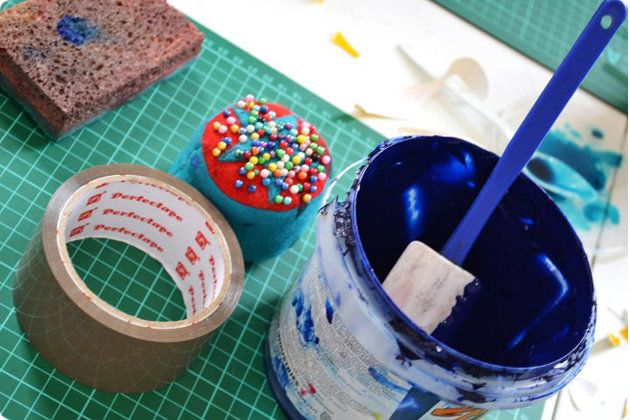 Over a year ago I had the pleasure of attending a screen-printing workshop ran by the lovely Laura Day of
Learn 2 Screen-print
. With over 7 years of screen-printing experience Laura's extensive knowledge and bubbly, enthusiastic personality made the class an absolute dream to attend.
I had no prior screen-printing experience but was super keen to learn a few new techniques. Laura's teaching method is very hands on and I was able to learn a lot about the screen-printing process. All materials were supplied, so all we had to bring was a head full of ideas and the patience to cut out our stencils.We applied our designs to a set of greeting cards, calico tote bag and a cushion cover.
I designed a leafy squirrel silohouette for my tote bag and cushion (I got inspirationg for the squirrel silohuette from shutterstock the night prior and took a print out to the class) and a smaller squirrel for my greeting cards.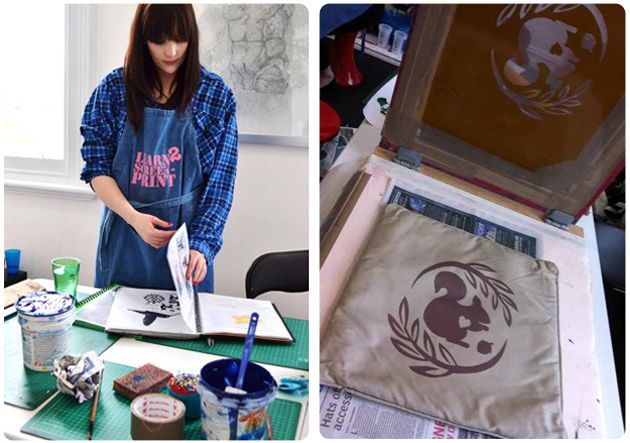 Credit to
Red Brick Gallery
for snapping me in action (two)
I was super happy with my screen-printed goodies and couldn't wait to show my family and friends. It was so refreshing to get my hands a little "dirty" and channel my creativity away from the computer screen. Since the initial beginners workshop I have also attended Laura's intermidate workshop where we focused on printing on canvas (using stencils on ezy cut paper and paint loaded rollers) and I also helped develop a christmas line of greeting cards for Laura in late 2011.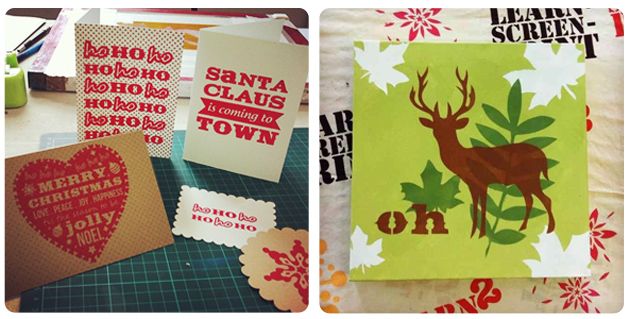 Attending these workshops really opened my eyes to another avenue of the craft movement.. I'm no stitch-mistress so I was feeling a little lost with my lack of involvement... Then screen-printing came along and hooray it's right up my alley! I'm able to combine my skills in design and my desire to be more hands on.
Screen-printing is so versatile and your options are (almost) limitless. I can't wait to start printing my cusion covers (and hopefully much, much more!!) watch this space people! :: wink ::

----------------------------
If you would like to learn more about Laura's Learn 2 Screen-print workshops click here